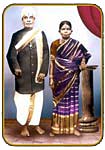 Deeply set in the land of Temples are Jewellers who craft every piece to perfection.

"Trust is the Luster that sets us apart"


In the last century, one name has turned synonymous with trust. Offering people high quality Jewellery. Guaranteeing impeccable workmanship. Adding luster to the word ' trust '.

Founded by Sri Bangaru Chetty, a visionary and philanthropist from North Arcot District of Tamil Nadu. Today, the fourth generation of the family is carrying the mantle Reflecting the same values as their founder. Making no compromise on quality. Spearheaded by Vummidi Sreehari and his two sons Vummidi Prashanth and Vummidi Ajay Kumar.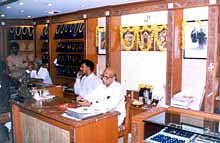 Vummidi Bangaru Srihari Sons offers the most dazzling range of Jewellery.
Designs which blend tradition with fashion. Each an eloquent tribute to God's most beautiful creation - Woman.
The most unique thing that brings our customers and their generations to us is that they have experienced a sense of fortune and goodwill after being a part of us. No wonder we still find our esteemed customers since decades still thronging this century old Temple of Jewels.
But words can never capture the glitter and glory. You have to see it to believe it.